Flancer's Gourmet Grub recently raised over $30,000 to help three charities in need.
Warfighter Sports, Sunshine Acres Children's Home and Jewish Family & Children's Services benefitted from a fundraiser the restaurant held.
The event featured a pizza-eating contest along with a raffle, according to a press release from the Mesa Chamber of Commerce. Mirza Selmic was the winner of the pizza-eating contest, in which he ate two large cheese pizzas in less than 15 minutes. The previous pizza-eating champion, Miss Arizona Katlin Niemiec, crowned Selmic.
"We are so thrilled to be able to have done this in support of our community to help people desperately in need of aid," Jeff Flancer, owner of Flancer's, said in the release. "I must send a big thank you out to our sponsors, staff and customers. These good people helped make this all possible."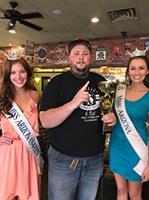 Flancer's has locations in Mesa and Gilbert.