City of Mesa issued the following announcement on Nov. 5.
The annual East Valley Veterans Parade will honor our nation's veterans Monday, Nov. 12 at 11 a.m. in downtown Mesa. The parade will begin at 11 a.m. at the intersection of Center Street and University Drive and will travel south on Center Street and turn west on First Street. The parade will continue on First Street to Robson where it will end.
This year's parade has the theme "Kilroy Was Here" to honor the iconic symbol during World War II and the Korean War and will include approximately 100 entries. This year's grand marshal is retired Commander Lester Gray, Jr. Born in 1922, he joined the V-5 Aviation Cadet program in 1942 and flew missions throughout the Pacific Theatre during World War II. He was recalled to active duty during the Korean War. His major awards and decorations include two Distinguished Flying Crosses and five Air Medals, as well as a tally of 5 1/4 victories. More information about the parade is available at www.evvp.org.
Prior to the parade, at 10:45 a.m., a brief program will recognize Veterans for their service to our country. It will include remarks from Mesa Mayor John Giles and Gilbert Mayor Jenn Daniels.
The following streets are scheduled to be closed for the parade:
7 a.m. (parade staging)
Center Street - 9th Place to University Drive (no northbound traffic)
Center Street - at Brown Road (local traffic only southbound from Brown)
Center Street - at 9th Place (reduced to one southbound lane to University Drive)
8th Street - Center to Mesa Drive (local traffic only; Mesa Drive to Fitch Park driveway)
Athletics Way (6th Place) - Center to Fitch Field parking lot
8 a.m.
Center Street - University Drive to Pepper Place
3rd Place - Center Street to Drew
MLK Way - Center Street to Centennial Way
2nd Street - at Center Street
2nd Street - Robson to Country Club Drive
1st Street - Centennial Way to Country Club Drive
Macdonald - Pepper Place to 2nd Street
Robson - Pepper Place to 2nd Street
Morris - 1st Street to 2nd Street
10:45 a.m.
University Drive - Mesa Drive to Country Club Drive
University Drive will reopen to through traffic at Center Street at approximately 12:30 p.m. All streets should reopen by 2 p.m. Traffic can detour around the parade route by using Main Street, Mesa Drive, Country Club Drive and Brown Road.
In addition to the parade, the United States Army Band and Chorus will give a free concert at 7:30 p.m. at the Mesa Arts Center. Tickets are available at www.mesaartscenter.com. The Concert Band & Soldiers' Chorus are the oldest and largest of The U.S. Army Field Band's performing components. Founded in 1946 and 1957 respectively, they have performed in all 50 states and 30 foreign countries for audiences totaling hundreds of millions.
The City of Mesa offices will be closed Nov. 12 in observance of Veterans Day. Trash and recycle barrels will be on the normal collection schedule. Residents should have their containers out no later than 6 a.m. Bus and light rail routes will operate on their regular schedules, with the exception of Express and RAPID commuter bus services which will not operate that day.
All branches of Mesa Public Library will be closed Nov. 12. Webster, Jefferson, Broadway and Eagles recreation centers will be closed. The Red Mountain Recreation and Fitness Center will be open 8 a.m. to 1 p.m. The Red Mountain Active Adult Center will be open 8 a.m. to 4 p.m. Oakwood Creative Care will be open 7 a.m.to 5:30 p.m. The Dobson Ranch Golf Course will be open and the Kino Aquatic Center and Skyline Aquatic Center will be open for adult lap swimming.
The Mesa Arts Center, Mesa Contemporary Arts Museum, the Store and administrative offices will be closed. The box office will be open from 10 a.m. to 5 p.m. The Arizona Museum of Natural History and i.d.e.a. Museum will also be closed Nov. 12. The Arizona Museum of Natural History will offer free admission to Veterans, with a Veterans identification card, Nov. 10 and 11. The i.d.e.a. Museum, which offers free admission to Veterans daily, will be open Nov. 11 from noon to 4 p.m.
Another Veterans Day observance in Mesa is the Royal Air Force Cadet Memorial Service Sunday, Nov. 11 at 10:45 a.m. at the Mesa Cemetery, 1212 N. Center St. The service, presented by the Commemorative Air Force Airbase Arizona, honors the 23 British cadets and one American pilot killed in air accidents during Falcon Field's four years as a training facility for U.S. and British fighter pilots during World War II. Those individuals are buried in a special section of the Mesa Cemetery. This observance has been held in Mesa annually for more than 30 years.
Original source can be found here.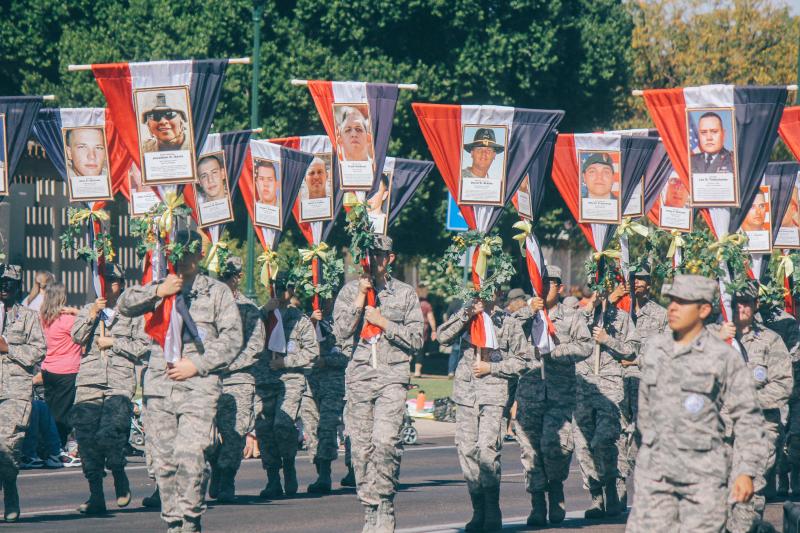 Source: City of Mesa