Featured
With health care insurance providers pulling out of state Affordable Care Act (ACA) exchanges and announcing steep premium increases where they remain, Democrats need to join with Republicans to replace Obamacare, U.S. Rep. Trent Franks (R-AZ) said in a recent interview.
read more »
---
The decision by Aetna and other health care insurance providers to scale back participation in Arizona's Affordable Care Act Marketplace exchange will hit one county harder than any other, a state Department of Insurance spokesman said.
read more »
---
Detectives with the Arizona Department of Transportation cited Daniel Miranda for selling more than 100 cars without a dealer's license.
read more »
---
The Arizona Technology Council (ATC) and the Arizona Optics Industry Association (AOIA) have signed a collaborative agreement to help expand the science and technology sectors in Arizona and boost the number of high-paying jobs in the state. 
read more »
---
U.S. Sen. Jeff Flake (R-AZ) is among the Republican legislators urging the Treasury Department to disclose findings from its investigation into potential fraud by solar panel companies that received taxpayer-backed funding for over three years.
read more »
---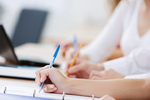 Great Hearts Academies, Arizona's largest nonprofit network of public charter schools, has received a $50,000 grant from the APS (Arizona Public Service) Foundation to support a math program in collaboration with Reasoning Mind.
read more »
---
The Arizona Corporation Commission Pipeline Safety Section has received a perfect 100 score in its annual audit by the Department of Transportation's Pipeline and Hazardous Materials Safety Administration (PHSMA).
read more »
---
---
---
---
---
---